Buzzers Ignite During Holstein Foundation Dairy Bowl and Dairy Jeopardy Competitions

Brattleboro, Vt. (July 9, 2012)…The National Dairy Bowl and Dairy Jeopardy contests were held in Springfield, Mo. at the National Junior Holstein Convention. With most of the participants earning a spot at the state level to compete in the national contests, nearly 300 youth showed off their dairy knowledge.

Dairy Jeopardy

Dairy Jeopardy had nearly 70 contestants in three age divisions; Junior, ages 9-13, Intermediate, ages 14-17, and Senior, ages 18-21. The quick response competition is based on the popular television game show, but focuses on a vast array of dairy knowledge.

In the Junior division, first place went to Sarah Thomas from North Carolina. The Intermediate division winner was Megan Rauen of Iowa, and in the Senior division contest, Ethan Himmelberger from Pennsylvania took home the top prize.

Dairy Bowl

In the National Dairy Bowl contest, four-person teams compete within two age divisions - Junior, ages 9-15, and Senior, ages 16-21. A total of 27 Junior and Senior teams competed this year.

For the Junior division championship, California faced off against Iowa, California claiming victory in the final match. Coaching the California team are Kirsten Areias and Megan Pierce, and team members included Bailey Allen, Alexandria Gambonini, Kiara Gilardi and Hannah Young. The runner-ups of Iowa were coached by Diana Stewart, with team members Alyssa Dougherty, Andy Dougherty, Adam Simon and Katie Stewart.

The Senior division saw the same match up with California versus Iowa. California claimed the national champion title in the Senior division with team members Caitlin Lopes, Tony Lopes, Elisabeth Regusci and Elise Regusci. The team was coached by Kirsten Areias and Megan Pierce. The Iowa team was coached by Heidi deGier, and competitors were Joey Adams, Kyle Demmer, Jake Mills and Rachel Scott.

Excellent sportsmanship is also rewarded in each division to encourage courtesy and friendliness throughout the contest. The Ohio team received this honor in the Junior division. Team members were Lukas Bishop, Kenzie Bishop, J.D. Nelson and Korey Oechsle, coached by Joyce Nelson.

The Illinois team claimed sportsmanship honors in the Senior division. Team members included Morgan Bollech, Matt Drendel, Levi Martin and Philip Shanks. The team is coached by Becky and Glen Meier.

Dairy Knowledge Exam

The Dairy Knowledge Exam is open to any youth attending the National Junior Holstein Convention who wants to test their skills. The top three in each age division were awarded with a plaque.

In the Junior division, first place went to Mary Scott from Iowa; second place was Sarah Thomas of North Carolina; and coming in third place was Nathan Arthur from Iowa.

Claiming top honors in the Senior division was Tony Lopes of California; second place was Elise Regusci, California; and third place was Aaron Mitchell of Illinois.

For more information about Holstein Foundation youth programs visit www.holsteinfoundation.org, or contact Kelli Dunklee at 800.952.5200, ext. 4124.
---
Holstein Foundation Offers Art, Holstein Embryos, to Benefit Dairy Youth Programs

The Holstein Foundation is hosting a silent auction at the 2012 National Holstein Convention, June 27-30, in Springfield, Mo., with proceeds benefiting Holstein Foundation youth and young adult programs, such as dairy bowl, dairy jeopardy, Young Dairy Leaders Institute, and educational workbooks. Bid last, take home some unique items, and help support the Holstein Foundation's mission of "developing dairy leaders for tomorrow!"
A one-of-a-kind, limited edition "Foster Mothers of the Human Race" print has been generously donated by Hoard's Dairyman magazine. The print is signed and numbered (42 of 1,250) by artist Bonnie Mohr, and is distinctive in that it is remarqued with an image of the Holstein cow's head, hand-sketched in the margin by Mohr. The painting is professionally matted and framed; several pictures can be viewed online at www.facebook.com/HolsteinFoundation. Buyer will be responsible for transporting the painting home.
Several lots of Holstein embryos have been donated by Sunshine Genetics, out of some of the breed's popular cow families. There are 12 lots, consisting of three to four embryos each, sired by bulls such as Gillette Windbrook-ETS, Maple-Downs-I G W Atwood-ET, Picston Shottle-ET and Sandy-Valley Colt P-Red-TW. The complete list of embryos and pedigrees can be viewed on the Holstein Foundation web site. Buyer will be responsible for shipping costs from the Sunshine Genetics facility in Whitewater, Wis.
For more details about the items selling, visit www.holsteinfoundation.org. If you are unable to attend the Convention but are interested in placing a bid, or have other questions, contact Jodi Hoynoski, at 800.952.5200, ext. 4261.
---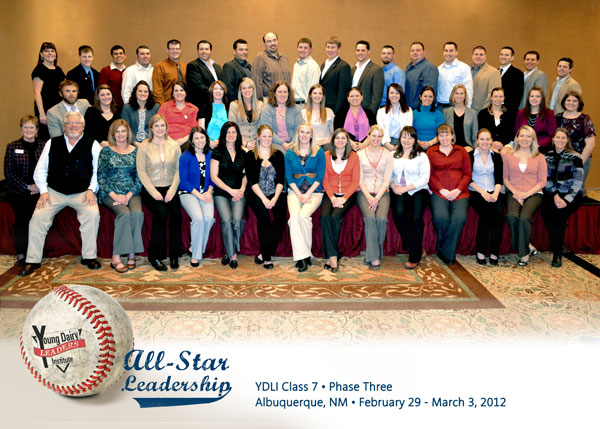 Brattleboro, Vt. (March 12, 2012)…Another installment of the Holstein Foundation's cornerstone program, Young Dairy Leaders Institute (YDLI), has come and gone, with forty-two young adults from the U.S., Canada, Mexico, and Italy, completing the three-phase leadership and communication skills development program. The group met for their Phase III training February 29 through March 3 in Albuquerque, N.M. Building on the skills they learned during their first meeting last spring, along with what they have practiced and accomplished over the past twelve months, the class participated in workshops covering topics such as advanced media relations skills, conflict management, and the public policy process.
"YDLI was truly was a life-changing experience for me," said Andy Birch, YDLI graduate from Vermont. "It is good to know that there are so many talented and energetic young leaders in the dairy industry and I am sure the connections we made will help us for the rest of our lives."
Featured speakers on the "All-Star Leadership" roster included:
Joan Horbiak and David Pelzer, who presented "Media Spring Training," focused on mastering interviews with the media and speaking with consumers
Pete Kappelman, YDLI Class 1 alum and current chairman of the Land O'Lakes board of directors, who delivered an inspiring message about accomplishing leadership objectives
Wes Jamison of Palm Beach Atlantic University, focused on conflict management and resolution, going from identifying your personal "conflict style" to crafting effective messaging to convey your point of view. Jamison also moderated a debate about the animal rights movement between Gene Baur, co-founder of Farm Sanctuary, and Wesley J. Smith, a lawyer and pro-animal agriculture author, which was enlightening for all.
Bonnie Burr, YDLI Class 1 alum, led a session on understanding public policy and gave participants hands-on experience with the governmental process.
Ty Bennett was the closing keynote speaker, who hit a home run with his talk about the "Power of Influence." His message left the class inspired and feeling empowered to continue their leadership journey and have a lasting influence on those they interact with.
Another highlight of the conference was each class member reporting on their personal advocacy projects and presentations made in their home communities during Phase II, which has taken place over the past year. Through their combined efforts, the class reached thousands of consumers, spreading dairy's positive message. Katie Hohmann, of Illinois, educated people about the benefits of chocolate milk as a recovery drink, working with her local YMCA and a running club. Bryce Bonow, Minnesota, put together a dairy activity day for school-age children, taking them through several stations that covered various aspects of life on a farm, and getting them excited about the dairy industry. The five Canadian YDLI participants, recognizing a need for a consumer-oriented online dairy resource in their country, joined together to create the Canadian Dairy Advocacy Group (CDAG) web site, where they regularly blog about dairy-related information, geared towards the general public. These are just a few examples of the wide range of projects that class members planned and executed.
The Holstein Foundation and Young Dairy Leaders Institute participants would like to sincerely thank the many gracious sponsors who made the experience possible. Institute Leaders include Allflex USA, Inc.; Cargill, Inc.; Dairy Management, Inc.; Elanco Animal Health; Farm Credit System Foundation; Hoard's Dairyman; Holstein Association USA, Inc.; and the Northeast Agricultural Education Foundation. Institute Supporter sponsors are CHS Foundation; Dairy Business Communications; Dairy Farmers of America; Farm Credit Northeast AgEnhancement; GEA Farm Technologies; Land O'Lakes Foundation; Pfizer Animal Genetics. Institute Friends include Animal Health International; Robert L. Cain Memorial Fund; Center for Dairy Excellence; COBA Select Sires; Cooperative Resources International; Dean Foods Company; Hilmar Cheese Company, Inc.; International Food Information Council; KeyBank; Pioneer Hi-Bred International, Inc.; Select Sires Canada, Inc.; Select Sires, Inc.; U.S. Dairy Export Council.
For more information about YDLI or other Holstein Foundation programs, visit www.holsteinfoundation.org. With questions, or to request information about being a part of the next class of YDLI, contact Jodi Hoynoski, Holstein Foundation programs manager, at 800.952.5200, ext. 4261.
---
Brattleboro, Vt. (January 9, 2012)…Bonnie Mohr, Glencoe, Minn., has been named the Holstein Foundation's 2011 Young Dairy Leaders Institute (YDLI) Distinguished Alumni Leader Award honoree. This award annually recognizes YDLI alumni who have made notable contributions and utilized skills gained during their YDLI participation for the betterment of the dairy industry. Mohr was a member of YDLI's inaugural class held in 1994 and 1995.
"An important benefit I took away from YDLI was the resources and networking opportunities," said Mohr. "I think those are two very important things, contacts and ideas. There are people I met at YDLI that I would have never met otherwise."
Mohr is a renowned dairy artist who has been involved with the dairy industry her entire life. Today, she, her husband, John, and their five children own and operate Glenmark Genetics, which is also the home of and provides inspiration for Bonnie's art studio. The Mohr's Registered Holstein farm provides numerous opportunities to reach consumers, seeing an average of 500 to 1,000 guests annually. She has had the honor of visiting with people from elementary school children to international visitors, and groups ranging from Teachers' Associations and various community organizations, to the 3,000 dairy enthusiasts who attended a state June Dairy Day event held in 2000 on their farm. Bonnie and her family have been long time members of Holstein Association USA, the Minnesota Holstein Association, and the McLeod County Holstein Association.
Mohr has used her talents as an artist to reach those outside of agriculture, as well as for the benefit of agricultural organizations. She created a painting for the Holstein Foundation, "The Beautiful Cow," which was sold at the 2010 National Holstein Convention and raised $80,000 for the Holstein Foundation's Dairy Leaders for Tomorrow Campaign.
"I think any time you're involved in an industry organization that you love and appreciate, it instills a want or desire to give back," said Mohr. "Because of this life long journey and benefits I have derived from the dairy industry - I realized I had the opportunity to 'give back' through my painting at the 2010 Convention. I believe in the power of each person playing a part to make a worthy contribution in life, because we all have something different to give. Paintings are my way of giving back."
The Young Dairy Leaders Institute, a program of the Holstein Foundation, is a nationally recognized three-phase leadership and communication skills development program for young adults working in the dairy industry. For more information on YDLI or other Holstein Foundation programs, visit www.holsteinfoundation.org or contact Jodi Hoynoski at 800.952.5200, ext. 4261.