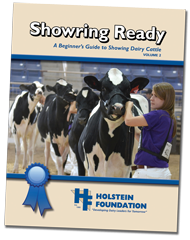 Holstein Foundation is pleased to provide a variety of resources to educate youth, showmanship judges, and anyone else who works with dairy youth on proper showmanship procedures. In Holstein Foundation's Showring Ready workbook, readers will find the latest Purebred Dairy Cattle Association (PDCA) Showmanship Guidelines as well as an updated PDCA Evaluation Scorecard for Judges. A four-part video series has also been developed to bring these concepts to life and help demonstrate many of the aspects of dairy showmanship that every youth should know before stepping in the ring. The Showring Ready workbook and video series are both based on the most recent version of the PDCA Showmanship Guidelines.
A video has also been developed that demonstrates the techniques for clipping a dairy cow or heifer for a show described in Showring Ready.
All of these resources are available online at no charge, and links can be found below.

Showring Ready Workbook

PDCA Showmanship Guidelines

PDCA Showmanship Evaluation Card for Judges
This 15-minute video includes step by step instructions on clipping a dairy show animal from start to finish. It covers the differences between clipping a dairy show heifer or cow, which clipper type to use where, and gives a close-up demonstration of useful clipping and fitting techniques.
The four videos, each about four minutes in length, cover the following topics:

This video covers the essential things dairy showmen should wear in the ring, how they should act while showing their animal, and things every showman should know about their dairy animal before entering the showring.

This video covers preparations to ensure your animal is ready for the showmanship ring. To properly care for, groom and show your animal, you will need the right gear.

This video covers proper technique for leading your animal into the showring at the start of the class, as well as how to show her on parade. The goal is to keep your calf looking her best always, while making it appear effortless.

Show day is exciting for everyone involved, and the time when all your hard work and preparation will shine. This video covers proper technique for pulling your animal into line during the class and how to properly set her up once you are there.