Holstein Foundation Releases New Volume of Dairy Judging Workbook

Brattleboro, Vt. (September 29, 2016)…The Holstein Foundation is pleased to introduce its newest volume, Dairy Judging, Volume 3 to its library of free workbooks available online. To download, visit www.holsteinfoundation.org/education/workbooks.html, or place an order to purchase printed copies.
With the newest volume, readers will find updated pictures throughout the book as well as three new practice classes. Dairy Judging takes readers through the basics of judging dairy cattle. It covers the PDCA Scorecard and major breakdowns with pictures, preparing and presenting oral reasons, assigning cuts and scoring placings, and the basics of linear evaluation.
This volume was dedicated to Richard "Dick" Keene. Keene spent a lifetime dedicating himself as a Holstein breeder and enthusiast, accredited and highly respected dairy cattle judge, friend and ambassador to the dairy and agriculture industries. Dick's wife Shirley states "His passion for youth inspired him to help young people reach their goals and potential. Dick served as dairy judging coach, guiding many 4-H members to place well at State and National 4-H dairy judging contests."
In addition to the free download available online, the Dairy Judging workbook may be purchased for $5 each, including shipping. If ordering 50 or more copies, the workbooks are $3 each. There is a minimum order of 5 workbooks, and orders must be placed at least two weeks before delivery is needed. For rush orders, buyer will be responsible for the full rush shipping cost. Each has a color cover with black and white contents.
With questions or to place an order, contact Kelli Dunklee at 800.952.5200, ext. 4124, or visit www.holsteinfoundation.org/education/workbook_orders.html to order online. Payment is accepted by credit card, and workbooks will be shipped after payment is received.
---
Brattleboro, Vt. (July 6, 2016)…Youth were the stars of the show during the Holstein Foundation's national Holstein youth competitions, held in Saratoga Springs, N.Y., last week, as part of the 2016 National Holstein Convention. Over 196 youth from around the country participated between three contests, most of whom qualified at the state level before moving to the national competition.
Dairy Jeopardy
Nearly eighty participants competed in the Dairy Jeopardy competition, divided into three age divisions. This competition is based on the popular television game show, featuring a wide range of dairy-related questions in a number of categories. Following are the top three individuals in each age division.
Junior Division (ages 9 to 13)
1st: Cassy Schilter, Wash.
2nd: Henry Hamlett, Iowa
3rd: George Andrew, N.Y.
Intermediate Division (ages 14 to 17)
1st: Gregory Norris, Mass.
2nd: Michael Fioretto, Fla.
3rd: Ayla Blatt, Pa.
Senior Division (ages 18 to 21)
1st: Alex Gambonini, Calif.
2nd: Emily Irwin, Ill.
3rd: Stephanie Bishop, N.Y.
Dairy Bowl
In the National Dairy Bowl contest, four-person teams compete within two age divisions; Junior, ages 9-15, and Senior, ages 16-21. A total of twenty-eight Junior and Senior teams participated this year, with 17 states sending teams in each division.
The Junior division championship came down to the teams from California and Pennsylvania, with California emerging as the victor in the final match. Team members included Hayley Fernandes, Jacob Fernandes, Abbi Prins, and Kylie Konyn, coached by Kirsten Areias. The runner-up Pennsylvania team members included Caroline Arrowsmith, Nicole Arrowsmith, Amber Pownall, and Roy Bramn, with coaches Mandy Arrowsmith. Rounding out the top five teams in the Junior division were New England in third, Iowa in fourth and New Jersey in fifth.
The Senior division finals saw California squaring off against New York, with California claiming the championship. California team members were Hannah Van Dyk, Hannah Mancebo, Siana Barret, and Mackenzie Elmer, coached by Kirsten Areias. Representing New York were Alton Rudgers, Allison Herrick, Nick George, Tracy Rudgers, with coach William Herrick. Other teams placing in the top five in the Senior division were Pennsylvania in third, Washington in fourth and Florida in fifth.
J. George & Anna Smith Sportsmanship awards are given to one team in each division who best exemplify the principles of courtesy, friendliness and team spirit throughout the competition. Each team receives a cash award and plaque. The Junior team receiving this award hailed from the state of Maryland, with team members Jordyn Griffin, Ryan Allen, Robert Hahn, and Jill Allen, coached by Laurie Savage. In the Senior division, the honor went to the Oregon team, consisting of Matt Ruby, Jake Ruby, Brooke Ruby, and Faith Wilson, coached by Michele Ruby.
Dairy Knowledge Exam
The Dairy Knowledge Exam is open to any youth attending the National Junior Holstein Convention who wants to put their brain to the test with a 25-question written test. Like Dairy Bowl, youth are divided into two groups by age. The top three individuals in each division for the Dairy Knowledge Exam were as follows.
Junior Division
1st: Jacob Fernandes, Calif.
2nd: Christine Putman, N.Y.
3rd: Hayley Fernandes, Calif.
Senior Division
1st: Elizabeth Endres, Wis.
2nd: Doug Boop, Pa.
3rd: Mackenzie Elmer, Calif.
For more information about Holstein Foundation youth programs, visit www.holsteinfoundation.org, or contact Kelli Dunklee, youth programs specialist, at 800.952.5200, ext. 4124, or by email.
---
New Ideal Holstein Cow & Bull Models to Sell at 2016 National Holstein Convention, Benefitting the Holstein Foundation

Brattleboro, Vt. (June 22, 2016)...Holstein Association USA is excited to unveil new Ideal Holstein Cow and Bull models during the 2016 National Holstein Convention, on Thursday, June 30th, in Saratoga Springs, N.Y., during the Annual Business Meeting. Created by renowned agricultural sculptor Carol Herden of Carol's Original WorkS in Minnesota, the models were created in the image of the Ideal Holstein Cow and Bull paintings, created by Bonnie Mohr in 2012. Holstein enthusiasts will have the opportunity to purchase Limited Edition models for the first time at the National Holstein Convention next week.
"We are delighted to pay tribute to our beloved Holstein breed with these new models," said Holstein Association USA CEO John M. Meyer. "The paintings we unveiled in 2012 are magnificent in their own right, and now these models bring them to life even further. They provide a 3-D portrayal of the animals Registered Holstein breeders across the country are striving for - balanced, functionally correct and profitable."
Only 100 Limited Edition cow models and 50 Limited Edition bull models will be available for purchase. Each model in the Limited Edition run is hand-painted, individually numbered, and comes with a Certificate of Edition from the sculptor. They are beautifully mounted on a 2" oak base.
In the art and collector world, the lower the number a piece has in a run, the more valuable it is typically considered. The #11 cow and bull models will be the lowest number models available to the public, and they will be offered at public auction at the start of the National Holstein Convention Sale, on Thursday, June 30th, at 7 p.m. All proceeds from the sale of the #11 models will benefit the Holstein Foundation and their youth and young adult educational programs. Consider bidding last on this unique piece of Holstein history and support a great cause!
The remaining models in the Limited Edition will also be available for purchase starting on Thursday, June 30th. Special pricing will be offered for orders placed during the Convention - a 10 percent discount on the purchase of one model and 15 percent total discount if both the cow and bull are purchased as a set. Following the National Convention, the remaining models in the Limited Edition may be purchased exclusively by contacting Holstein Association USA.
With questions or for more information, contact Lindsey Worden, Holstein Association USA Executive Director of Holstein Genetic Services, for more information via email, or 800.952.5200, ext. 4096.
---
Brattleboro, Vt. (June 16, 2016)…Young Dairy Leaders Institute (YDLI) is seeking young adults, ages 22-45, with a passion for the dairy industry to apply for the upcoming 10th YDLI class. A cornerstone program of the Holstein Foundation, YDLI is a renowned, innovative leadership and communication skills development program. Applications are due August 1, 2016, and may be downloaded from the Holstein Foundation web site at www.holsteinfoundation.org.

Dairy producers working with all breeds of dairy cattle, and allied dairy industry members, are encouraged to apply. YDLI Class 10 will have on-site meetings in Phoenix, Ariz. February 8-11, 2017 and January 31-February 3, 2018. During fun and interactive sessions, participants develop top-tier leadership and communication skills and the personal network needed to succeed in today's dairy business. In the year between sessions, participants have monthly assignments to practice the skills learned in their home communities.

YDLI has over 500 alumni that can attest to its merit. Among them, YDLI Class 9 alumnus Michael Goeldi from Wisconsin, says "I've been very lucky in my life to be able to attend quite a few workshops and conferences aimed at personal growth, but YDLI was far and away the best experience I've had. If I had to use one word to describe YDLI it would be transformative. I came to Phoenix last year thinking that I was in a pretty good place both personally and professionally. YDLI opened my eyes to many things that I have not only worked on, but will continue to work on into the future."
Phase I, held in February 2017, focuses on individual leadership and personal development. Interactive workshops cover topics such as working with different personality types and in team environments, developing communication skills through hands-on practice, and giving impactful presentations.
During Phase II, participants complete a series of assignments in their community, which emphasizes the advocacy and outreach skills gained during Phase I.

The final on-site training, Phase III, will be held February 2018. The program will feature sessions on advanced communications training, influencing public policy and continued advocacy and leadership. Throughout the program, an emphasis is placed on networking with industry peers, a benefit that carries on long after a YDLI class is complete.

Visit www.holsteinfoundation.org to download the YDLI Class 10 application, as well as view more detailed information on the program and costs, and an informational video. Check it out and join the growing group of individuals who call YDLI the opportunity of a lifetime! With questions or for more information, contact Jodi Hoynoski via email, or 800.952.5200, ext. 4261.
---
Brattleboro, Vt. (June 8, 2016)...Holstein Association USA is excited to welcome Megan Rauen from Farley, Iowa, as the Holstein Association USA and Holstein Foundation youth programs and communications summer intern. Rauen will assist with the preparation and coordination of youth activities held during the National Junior Holstein Convention in Saratoga Springs, N.Y. She will also assist with communication efforts and the development of educational materials for dairy youth.
"Megan's extensive experience with our programs makes her a great fit for this internship," said Jodi Hoynoski, Holstein Association USA Executive Director of Identification and Member Services. "Her energy and enthusiasm make her a welcome addition to the Holstein team for the summer."
A senior at Iowa State University, Megan is double majoring in dairy science and agricultural and life sciences education. She is actively involved in the ISU Dairy Science Club and Sigma Alpha Agricultural Sorority.
Rauen grew up down the road from her grandparent's farm, Farnear Holsteins. She has been actively involved in the Iowa and National Junior Holstein Associations, participating in dairy bowl, dairy jeopardy, digital scrapbook, and folding display contests.
---
Holstein Foundation Graduates Young Dairy Leaders Institute Class 9
Brattleboro, Vt. (March 3, 2016)…Over 40 young adults from across the U.S. and Canada recently graduated from the Holstein Foundation's ninth Young Dairy Leaders Institute (YDLI) class, with Phase III being held February 24-27 in Phoenix, Arizona. Building on the skills they learned during their first meeting last February, along with what they have practiced and accomplished over the past twelve months, the class participated in interactive workshops covering topics such as advanced communication skills, conflict management, and the public policy process.
On their final feedback survey, participants were asked to write one sentence about what YDLI meant to them. Following are just a few of the comments that summarize the YDLI experience:
"I've been introduced to a community of people and network of professionals in the dairy industry that I will use throughout my career as a dairy farmer."
"I was skeptical to join the program and as a producer thought I wouldn't have time to do all the projects. I was wrong. It is what you make of it and it has been one of the best experiences I have had in my life. Thank you."
"YDLI has given me tools and relationships that I will use the rest of my life, and has been one of the most invigorating and enjoyable experiences of my life."
The theme for this YDLI Class was "Leadership Oasis." In addition to hearing presentations from every class member about their Phase II advocacy projects, the Phase III session featured speakers and workshops including:
Joan Horbiak presented "Leading Out Loud" focused on mastering interviews with the media, handling consumer questions, and telling dairy's story.
Dr. Wes Jamison moderated a session with guest Paul Shapiro from the Humane Society of the United States on the topic of animal welfare. Dr. Jamison also led a workshop on conflict management.
Pete Kappelman, YDLI Class 1 graduate, conducted a workshop on serving as a board member, and provided an inspirational evening keynote.
Bonnie Burr, also a YDLI Class 1 graduate, led a session on understanding public policy and gave participants hands-on experience with the governmental process.
Ty Bennett delivered a keynote about the "Power of Influence." His message left the class inspired and feeling empowered to continue their leadership journey and have a lasting influence on those they interact with.
The Holstein Foundation and Young Dairy Leaders Institute participants would like to sincerely thank the many gracious sponsors who made the experience possible. Platinum sponsors include Allflex USA, Inc.; CHS Foundation; Dairy Management, Inc.; DairyBusiness Communications; Dean Foods Foundation; Farm Credit System Foundation; Farm Journal Media; Hoard's Dairyman; Holstein Association USA; Land O'Lakes, Inc. Foundation.; Northeast Agricultural Education Foundation; and Zoetis.
Gold-level sponsors were Cargill Animal Nutrition; and Deere & Company.
Silver sponsors were Accelerated Genetics; Center for Dairy Excellence; GEA Farm Technologies, Inc.; and Pennsylvania Dairymen's Association.
Bronze-level sponsors included COBA/Select Sires; Farm Credit Northeast Ag Enhancement; Horace Backus Fund; Merial Ltd.; and Select Sires Genervations. Donated dairy products were served from Arizona Farms Cheese, Ehrmann Arizona Dairy LLC, and Shamrock Farms.
Read more about Class 9's YDLI journey on our official YDLI blog at www.ydli.blogspot.com! YDLI Class 10 will be held in February 2017 and 2018. Applications, available on the Holstein Foundation web site, are due August 1, 2016.

---
Michele Ruby Named YDLI Distinguished Alumni Leader
by Holstein Foundation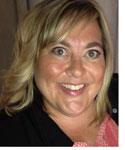 Brattleboro, Vt. (January 4, 2016)…Michele L. Ruby, a communications consultant from Portland, Oregon, has been chosen the 2016 Young Dairy Leaders Institute Distinguished Alumni Leader by the Holstein Foundation Board of Trustees. Ruby, an alumna of Young Dairy Leaders Institute (YDLI) Class 2, will be recognized at the final phase of YDLI Class 9 in Phoenix, Arizona, in February 2016.
"To me, YDLI is so much more than a leadership program," Ruby said. "It's a unique, lifelong fraternity of dairy enthusiasts that extends to all sides of our great industry and builds friendships, networks, and colleagues for life. I feel privileged to be an alumna of this great group of people and am flattered to receive this award."

Ruby owns Ruby-Do Inc., a boutique communications company that helps clients deal with issues and prepare for crises. She is also treasurer of Fir Ridge Holsteins, her family's 2,500-head Holstein dairy in Scio and Cloverdale, Oregon.
She is executive director of Oregon Ag Fest, an annual two-day festival, and has served on the boards of several nonprofit organizations. She was named Communicator of the Year by National Milk Producers Federation in 2000.
Ruby worked as director of communications for the Oregon Dairy Products Commission, as communications director for Tillamook County Creamery Association, and as an advertising specialist for World Wide Sires. She holds a bachelor's degree in dairy science, with a minor in agricultural communications, from California Polytechnic State University.
"There are few decisions in my life that I consider critical to my personal and professional development," Ruby said, in her YDLI application. "One of those was applying for and participating in YDLI Class 2. The training that YDLI provided was instrumental in my own desire to serve the dairy industry and my broader community. Even as a communications major in college, I had never received the focused communication training that YDLI offered. I learned the importance of telling dairy's story, while articulating the benefits of dairy, even when dealing with tough issues."
Young Dairy leaders Institute is a nationally recognized three-phase leader and communication skills development program for young adults (ages 22-45) working in the dairy industry, with all breeds of cattle. Sign-up for YDLI Class 10 will begin in February 2017. Find out more information and how to apply at www.holsteinfoundation.org/YDLI/ydli.html.